Painting the exterior and interior of your home undoubtedly transforms spaces and is the first thing that comes to mind when it comes to renewing a space. Most of the time, we tend to think that it's an easy job to do and that "anyone" can do it, and it's partly true. Why not paint your house yourself! We've dissected and learned of some of the benefits of painting a home yourself.
Advantages of Painting Your House Yourself
You will save money in hiring a company or a private painter
It is a fun process that you can enjoy.
You will learn something new that you can apply in the future
Stop there though! Before you start filling your hands with paint, we'll show you some tips for painting like a professional. This way you will be able to achieve an incredible finish.
Tips to Paint Your House Yourself
Where to Start?
It is important to choose the area where to start, so that's where we're starting!
If you want to paint your house or several spaces, starting with the emptiest room would be ideal, this way you can free up more space by moving objects from the other rooms to this one when it is finished. It also makes for easier movement of material and yourself!
Recommendation: Clear each space as much as possible, this way you will be able to move better in each area to be painted.
Color Proofs
It can be overwhelming to choose the right color for each space if you have any sort of doubt about choosing the right color. You can try brushing the wall in an area that reflects light well to analyze (and appreciate) the color well after it dries. This way you can make a more informed decision by getting a taste of the finish.
If you need help choosing the right color. America's Painters Pro has a specialized color consultation service. Our expert painters will choose the best color combination given your taste and the setup, and you're off to paint your own home!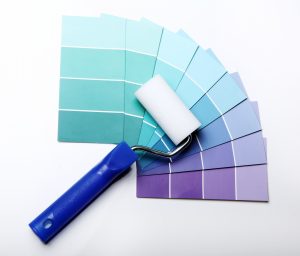 Prepare the Walls or Areas to be Painted.
It is important to prepare the walls or the areas to be painted before starting with the painting process. If the area has imperfections you must clean the dust, apply putty, and sand it to have a uniform finish, and then you can begin the application of paint.
PRO TIP: If you want to prevent stains caused by filtration issues or natural wear & tear that's on existing paint, we recommended that you attack the problem at its root, otherwise, your newly painted house will suffer the same staining.
Protect Furniture and Surfaces
Using masking tape and paper, cardboard, or plastic to cover surfaces and furniture in the area to be painted is very important, otherwise, you'll inevitably have a mess and get paint on material and places you don't want to have paint on. Cover the floor, corners, door frames, windows, and if possible remove the switches and outlets, and use masking tape to cover each edge.
What to Paint First? Ceiling, Corners, or Walls?
Ideally, you should start with the ceiling, so that you can cover any drops that have spilled on the wall, thus ensuring a perfect finish! A safe way to paint is by using a top-down approach.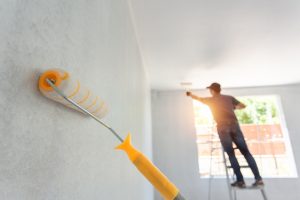 When to Apply the Second Coat of Paint?
It is very normal that the wall is not perfect with the first coat of paint, especially if you try to cover another color. Before starting the second coat, be sure of when to apply it. We recommend reading the information on the paint bucket including drying times recommended by the manufacturer of the paint. In addition, you can open doors and windows so the whole area is well ventilated and can dry faster. You can also use a fan.
Remove the painter's tape and fix the details
After painting the whole area, wait for the paint to dry and then we remove the painter's tape and carefully touch up all the details. Be careful not to leave too much time the tape stuck because it could come off with the new paint, ruining the work.
Do you feel ready to start? Then get to work! If you need additional help, don't hesitate to call America's Painters Pro in Fort Worth, Texas.