Discover the new Revolution in Painting Service!​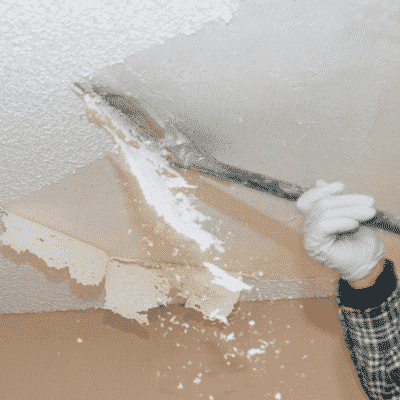 Fed up with friable stipple ceilings? Hit up America's Painters Pro to remove the now-unsightly popcorn ceiling, which used to be so popular in the 70s and 80s. If you're tired of airborne particles flying around your home from crumbly ceilings, then it's time to act fast and prevent serious health issues like mesothelioma.
America's Painters Pro makes a mince meal out of a ceiling renovation process. We'll begin by analyzing the property, asking important questions such as when the property was built and what type of coating you'd like to be applied. An estimate will be then be given. Next, the tapes, plastic, and drop cloths will be used to conceal the area to protect your furniture. America's Painters Pro specialists will commence the removal process, repairing, replacing, or retexturing the ceiling drywall to create a well-finished, beautiful ceiling work.
Modernize your property's style with first-rate aesthetic ceilings. Don't be misled by the plethora of DIY ceiling removal videos on the web. Save your clicks, money, and browsing time by scheduling an America's Painters Pro popcorn ceiling removal today!
Leave The Painting To The Pros!
Can You See Why So Many Homeowners Just Like You Are
CHOOSING AMERICA'S PAINTERS
PRO FOR ALL THEIR PAINTING NEEDS?
Why America's Painters Pro ®?
We can make your home look and feel new. You'll love how a new coat of paint can transform your home.
We have over 20 years of experience, so you'll feel confident that you are hiring the best in the business. Our Expert Painters are trained to properly deal with any painting challenge that may come up. From Residential Interior spaces to Commercial Exterior projects, we've done it all!