Professional Painting Company for Cabinets and Trim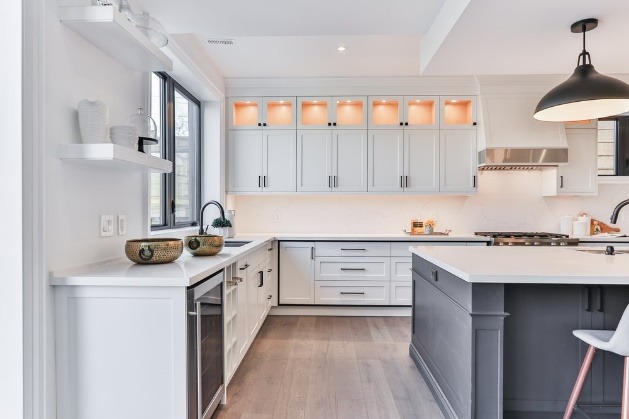 Are you planning to repaint your cabinets and trim but unsure as to whether you should make it into a DIY project or hire a professional contractor? Even though completing the paint job yourself and saving some money might seem tempting, keep in mind that painting is a major challenge that requires a lot of finesse, patience, and skill.
If you think you're up to the task, think again! Here are some reasons why you should hire a professional painting company for cabinets and trim.
Why Should You Hire a Professional Painting Company for Cabinets and Trim?
A fresh coat of paint can restore the appearance of your kitchen cabinets and offer an additional layer of protection against daily wear and tear. Similarly, painted trims – such as window frames, doors, baseboards, and moldings – can make a huge impact on your house. Along with drawing attention to interesting moldings, a well-painted trim can immediately enhance the wall colors throughout the room.
However, scoring impeccably painted cabinets and trim isn't always simple. Here's why you should hire a professional painting company for cabinets and trims.
1. Offer Expert Suggestions
The benefits of hiring a professional painter for cabinets and trim painting start even before the paint job begins. The experts can provide important advice regarding the type of colors and paint to use, which is one of the most underestimated but surprisingly challenging parts of cabinet and trim repainting. They will help you pick the top paint brands, trendiest colors, and most durable formulations that blend perfectly into your interior décor and paint color scheme.
2. Access to Equipment and Tools
If you are planning to take the DIY route, chances are the only tools and equipment you have are a tin of paint and a brush. Conversely, professional painting contractors have heavily invested in a vast range of high-quality tools that make their work clean and efficient. Investing in so many equipment and tools for a single DIY project as a homeowner might not be economically feasible.
3. Saves Time
Painting can be a time-consuming process. You might have to scrape off old layers of paint, manage repairs, and then, of course, do the painting itself. Depending on the design of your home, the kitchen is perhaps the most used room in your house. It serves as a dining room, a meal prep area, a gathering place, and sometimes children do their schoolwork there. If you are painting your kitchen cabinets yourself, you might find it difficult to get sufficient time between family, work, and other important obligations to finish the job on a timely basis.
Hiring a professional painting company will guarantee that you save time. You won't need to spend countless hours sanding and stripping the cabinets. Plus, you won't need to paint all of your cabinets while leaving your kitchen inaccessible for multiple days at a time.
4. Keeps You Safe
Along with being time-consuming, painting can even be dangerous. If you have lead-based paint on any part of your kitchens cabinets, it can be harmful for you to paint that area. Thus, you might need to hire a professional lead mitigator to make sure the paint doesn't escape into the air. Even inhaling the fumes of regular paint can pose a safety hazard.
Moreover, when you have to paint ceiling trim, you have to work with scaffolding or ladders, which all present a risk of falling. By hiring a professional painting company, you protect yourself from injuries and illnesses.
5. Take Care of Prep Work
Regardless of the quality of your equipment or paint, without the right prep work, the paint job will not look good, and it will end up compromising the look you want. Professional painting companies know how to clean out the stains and spots, scrape the walls, and smoothen the surface to make the paint job will be long-lasting and look perfect.
When you hire a professional cabinet painting company, they will invest a lot of time in prep work to ensure your cabinets can be painted while keeping your appliances, floors, and countertops free of paint.
Similarly, a professional painting company for trims will apply tape around the edges of the wall (where it meets the trim) to protect your walls from dripping paint. They will also use the right techniques to clean the trim before starting the paint job.
6. Ensures Excellent Results
Like anything else, painting is a skill. You really don't want to end up with drip marks, faded patches, smears between the trim, or other painting mistakes. When you hire a professional painting company for cabinets and trim, you can make sure that does not happen. That said, it is important to keep in mind that each company has a different skill level. Ideally, you should hire companies that handle repairs, scrape, clean your house, and thoroughly prep for the paint job.
7. Cleans Up After the Painting Job
Painting can be quite a messy job, and cleaning the paint splutters, sanding residues, debris, and all the dust generated during the painting process can be pretty stressful. Professional painting companies have the experience and training that helps them contain and minimize paint job splutters and debris. Additionally, they are going to clean up the site, ensuring that your kitchen and other parts stay clean and even more aesthetic than before.
Contact American Painters Pro
At American Painters Pro, we have a team of professional painters who can help you transform and update any space within your house, including your kitchen cabinets and trim. Whether you want to redo a dull room or transform your entire house, we can make the process easy for you!
We even offer color consultation services to help you choose the best and most suitable color for your cabinets and trim.