Why Hire Commercial
Painting Companies
If your commercial building needs a new paint job, hiring professional commercial painting companies to get the job done for you is a fantastic choice. Besides, the appearance of your building greatly matters when it comes to making an excellent first impression on your clients.
And naturally, you wouldn't want a sloppy paint job that'll ruin the exterior of your commercial building. With that said, here are some reasons why you should hire an expert commercial painting company's services below.
The Region's Leading
Residential and Commercial Painting Services
Get a High-Quality Paint Job That's Bound to Last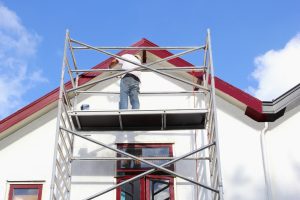 Although hiring non-professionals to get the job done for you will help you cut up on paint job expenses, you'll likely get a shabby paint job that will quickly wear off. However, if you hire a commercial painting company to get the job done, you can expect a high-quality paint job that's bound to last.
After all, professional painters will focus on every detail involved in the task. Furthermore, they will perform the paint job in a systematic manner. Thanks to that, you can sigh in relief knowing that your property won't end up with a mediocre paint job.
Get to Work with a Reliable and Knowledgeable Team
Working with a professional commercial painting company doesn't just mean working with insured and licensed painters. Commercial painters are also equipped with extensive knowledge regarding paint jobs. After all, they know all the types and colors of paint that will best suit your preferences and needs.
Furthermore, they will also know how to apply paint properly. Besides, most expert painters will also offer a thorough paint color consultation to get a good look at the coat of paint you want to have on your property. Aside from that, they will also consider other factors for the paint job, including the style of your building and environmental-related concerns.
Save Up on Paint Job Costs
Contrary to what you're thinking, commercial painting companies help you save on painting costs. Thanks to their vast knowledge in the field of commercial painting, they would know a bunch of ideas to help you save up on paint job costs. They will also guarantee that every drop of paint is used efficiently to minimize the materials and paint consumed for the job.
Have High-End Painting Tools and Equipment Be Used on Your Property
High-quality paint jobs are also thanks to the high-end painting tools and equipment used for the job. Once again, their knowledge and experience in the field help them know the suitable tools and equipment to use to finish the job with ease.
And of course, the best commercial painting services will make sure to stay up-to-date with the technologies and machinery being used in the industry. These high-end painting tools and gear ensure that paint jobs can be done quickly without compromising the quality of the work.
Final Takeaways
Overall, there are plenty of reasons to hire commercial painting companies to paint your commercial building. Aside from showing professionalism and obtaining the necessary licenses, their experience and knowledge in the field will also translate into their finished jobs. Basically, if you want satisfactory results, hiring commercial painting services is the way to go.
Here's what our clients have to say about us
"I reached out to these guys to change the color in my oldest daughter's room. They were out 2 days later to do the job and had it done in under 3 hours. Awesome work and very reasonable rates!"
Jonathan D
Service: Interior painting
"America's Painters Pro just finished painting our kitchen cabinets and they look amazing! We are trying to renovate our house on our own, but when it came to the cabinets, we decided we needed professional help. They gave us a reasonable price and were so easy to coordinate with. We are already talking to them about additional projects"
Avery Lovelady
Service: Paint cabinets
"This is the second time we've used America's Painters Pro. I highly recommend them. Gabriel is awesome! Professional, clean, timely and flexible. Give them a try for your interior or exterior painting needs!!"
Tania Leal
Services: Interior painting, Exterior painting
Leave The Painting To The Pros!
Painting Made Easy!